Report on the Israel trip of the Badehäusler from 12 to 19 March 2023
Translation by Gavin Maendel
The BADEHAUS Place of Remembrance was invited by the Organization of Foehrenwald Descendants in Israel to participate in a large Foehrenwald conference near Tel Aviv on 16 March. A 5 member delegation of our volunteers therefore travelled to Israel for a week to take the opportunity to conduct nine life story interviews with contemporary witnesses who after the war grew up as children in the Jewish DP camp Föhrenwald. Part of the trip was financed by the federal program "Jugend erinnert".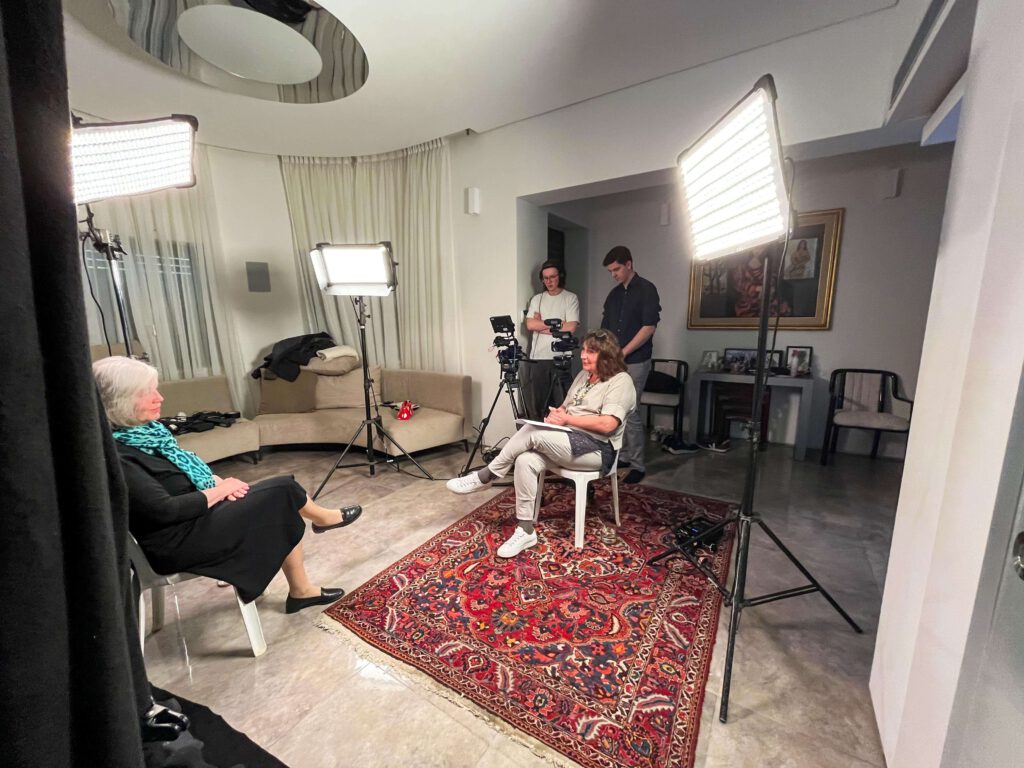 It took days to prepare everything for the flight, because the extensive film equipment with cameras, spotlights, tripods and cables had to be stowed safely and as space economically as possible. Not to mention all the suitcases which had to be packed securely for transport. The delegation was led by BADEHAUS head Dr. Sybille Krafft and included three young Badehäusler: deputy chair Jonathan Coenen (26, interviews), BADEHAUS social media man Joseph Coenen (21, sound and second camera) and our former federal volunteer André Mitschke (20, camera). Also present was advisory board member Justine Bittner, who documented the trip with her camera and took further portraits of Föhrenwald contemporary witnesses for our book and exhibition project "LebensBilder". Sybille Krafft was to give a speech at the conference, to which the anti-Semitism commisioner for the Bavarian state government, Dr. Ludwig Spaenle, was also invited.
We had very long working days during our stay in Israel, because the interviews as well as the conversation before and after took time; we also had the daily struggle to fight our way through Israel's traffic chaos. In addition, we had to set up and dismantle the equipment at each interview location, so that we were sometimes on the road from 7 a.m. to midnight. But the hard work was worth it: we were able to use the unique (and perhaps last) opportunity to record the fates of Holocaust survivors for our BADEHAUS place of remembrance and for future generations.
We are overwhelmed and very touched by the hospitality with which we were received by all the Föhrenwalders we met. In some cases we also spent the night in their homes. Thanks to the excellent organisation by Shoshana Bellen, who herself was born in the Föhrenwald DP camp in 1946, our interviews went exactly according to schedule. We heard many new and very moving accounts and were told incredible stories. For example, Lea Goren (78), who survived the Holocaust in an underground hiding place, later had to spend weeks on the high seas on the famous Jewish refugee ship "Exodus" after leaving Föhrenwald in 1947. Moshe Goldfarb (79), on the other hand, was only able to emigrate to Norway in 1955 after years of trying to obtain an exit visa. His mother was ill with tuberculosis and no country would take him in. Lea Fleischmann (76), author of the bestseller "Dies ist nicht mein Land" (This is not my Country), only left Germany in 1979.
On one of the days, Shai Lachman, chairman of the Israeli Föhrenwalder organisation and son of Gustav Lachman, the first freely elected camp leader of the DP camp, organised a surprise for us: we were given an exclusive tour of the official residence of the Israeli president, who lives very close to Lachman in Jerusalem. We felt very honoured.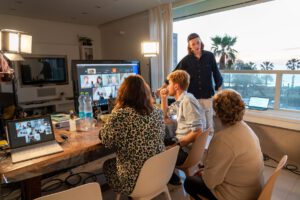 A special meeting also took place between Dr. Sybille Krafft, chairperson of the association Bürger fürs BADEHAUS Waldram-Föhrenwald e.V. and Steven Schmerz, the representative of the Free State of Bavaria in Israel. The one-hour conversation took place in his office in Tel Aviv, where the possibility of future joint projects was discussed, such as travelling exhibitions and exchanges between young Badehäusler and young Israelis.
Unfortunately, the 4th Föhrenwald Conference, which had been the main reason for our trip, could at short notice only take place online. Israel is currently in a difficult domestic political situation and protests had been announced throughout the country for the day of the conference, during which important access roads were to be blocked. We were naturally very disappointed, but we could understand the decision of the conference organisers, because we witnessed demonstrations several times. Whether at motorway bridges or road junctions – people waved the Israeli flag in protest or drove in convoys of cars, honking and flashing their lights. An enormous political tension was palpable everywhere.
The opening address by the Bavarian Commissioner for Anti-Semitism, Dr. Ludwig Spaenle, who was in Israel at the same time, and the speech by BADEHAUS Chairwoman Dr. Sybille Krafft were broadcast digitally. The attendees showed great interest in our civil society remembrance project and we received numerous contact offers afterwards. Indeed, our trip to Israel not only served to record the eyewitness interviews with the camera, but also to collect historical documents and photos from the Föhrenwalder, to establish contacts and to deepen friendships.
Three special highlights should be mentioned: Robbi Waks, who once grew up in the Föhrenwald DP camp, later became a history lecturer in Israel and showed us the Old City of Jerusalem in a historical lecture tour lasting several hours. We also visited a member of the BADEHAUS association at Kibbutz Tzuba, who has translated important texts into Hebrew for us on a voluntary basis. And finally, we were guests in the ultra-orthodox Jewish community Kiryat Sanz, which had been founded after the war in Föhrenwald by the Hasidic religious scholar Rabbi Halberstam. We will probably never forget this unique insight into a world that is very foreign to us.
Here you can find a first video clip with answers from former Föhrenwalders to our question about which lessons from history they would like to pass on to young Germans (Partly in Englisch). More videos will follow.
Pictures Copyright: Justine Bittner, Jonathan und Joseph Coenen.
Sponsored by: