with pictures by Justine Bittner
At the end of the war the "surviving remnants" gathered in Föhrenwald. The survivors of the Shoah were hoping to start a dignified new life, secure and free under the protection of the Americans. Thousands emigrated from here to "Eretz Israel" or to other countries. Some of the so-called Displaced Persons remained in Föhrenwald – in this "last Yiddish shtetl" on European soil – up to the closure of the camp in 1957.

With 32 portraits of persons who, after the war, found a temporary place to stay in the Upper Bavarian Isar-valley and who now live in Germany, Israel and the USA. They were created between 2018 and 2020 in the BADEHAUS and at the present centre of life of the contemporary witnesses.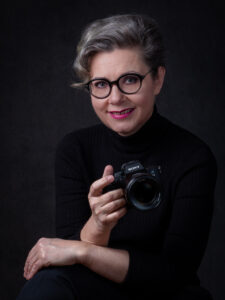 Justine Bittner was born in Heydebreck/Upper Silesia in 1966. She came to Germany in 1976 as a late repatriate and now lives in Geretsried. She studied architecture at the University of Dortmund and now works as a freelance photographer with a focus on "people". Since 2009 she has been working voluntarily for the Historical Association Wolfratshausen and since 2012 for the Place of Remembrance BADEHAUS.
The vernissage took place on October 18, 2019 at 5 p.m. as part of the celebrations for "75 years of Föhrenwald" in the BADEHAUS.
Parallel to the exhibition, we published the bilingual book of the same name "LebensBilder – Portraits of life in the Jewish DP Camp Föhrenwald.